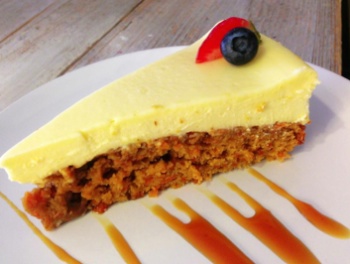 A TASTE OF SOME OF THE FLAVOURS
Everyday I have a different variety of flavors. If you are craving a certain flavor, please call ahead to make sure that I have it available


Classic "Philly Style" Cheesecake
€35,- (12 pieces)

Specialty cheesecakes
€38,- (12 pieces)
Some flavours:
*Ponche Caribe
*Orange is the new lemon ( orange, lime & lemon)
*Blueberry - Mango

*Nutella
*Chocolate chip cookie dough
*Charlie Brown ( Chocolate & peanut butter)
*Eggnog (Advocaat)
*Double Chocolat-Chocolat chip
*Dreamsicle ( Orange , vanilla swirl )
*Berry Blast ( Raspberry, Cranberry & Strawberry )
*Lemon – Lime
*Kiwi
*Banoffee
*Brownie
*Caramel
*Banana
*Pumpkin
*Lemon Curd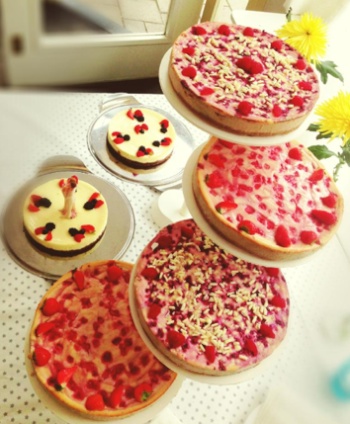 GETTING MARRIED?
Make your special day truly unique with a custom cheesecake. After all, nothing says love like cheesecake!!!
Take a closer look at some of the possibilities here... Feel free to CALL US FOR MORE INFORMATION.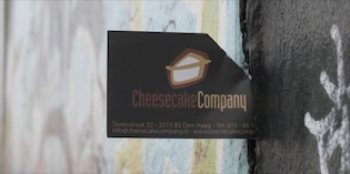 REBECCA'S CHEESECAKE ABROAD

Some of my loyal "cheesecake fans" have brought the soon to be famous cheesecake on their journies around the world. First to Spain & now to Singapore! They where so kind as to send me pictures of the "traveling cheesecake". This is when the whole idea was born to follow the cheesecake wherever it goes! If you are bringing the cheesecake to family outside the Netherlands, please send me a picture and let me know which country.